31
Aug
August 31st, 2017
DAMIAN MARLEY "STONY HILL" ALBUM REVIEW
Written by Shana McCalla
A tribute to Kingston's Stony Hill starts off with a prayer to the Most High, truly beginning with a meditation.  There's no doubt something amazing is about to begin.  We are taken on a journey through Damian Marley's "livity". The first song on the album; Here We Go, is an up beat reggae/ hip hop fusion you can hear the old-school "scratching" in the musical assembly.   Vibes off to a great start, as we find ourself listening to the popular single; Nail Pon Cross, which made waves when Damian premiered it earlier this year as the first single released off the album.  A taste of what was to come for fans. This song speaks to verbal persecution and teaches one to look in the mirror before judging others.  If anything, a lesson and warning not to judge those you do not overstand.  This is Damian Marley's first solo album in over a decade and is keeping the Marley's at the top of the pack.  R.O.A.R is the next track and it's a BIG tune, ready to trample down evil. Dancehall turns into a chant "Big up the lion dem weh roar fi a cause…" you don't want to cross Damian Marley. 
Medication; featuring brother Stephen Marley, was also released in advanced to the album and is a great example of the genius that is the "MARLEY Family" it sings to the legalization of marijuana and also an anthem for the brothers transforming a jail into a medical marijuana grow operation earlier this year.  Good job on them for turning a building that formerly took lives, into one that saves them. A true herbalists anthem, we're all holding a meds to this tune.  Next is, Time Travel, and it is one of those tracks that got us all thinking "What will the future bring".  Truth unravels in this song, making you re-think all that you thought you knew.  This song makes you feel like you are one of Jah soldiers, marching to the heart beat of JAH, in the ultimate marching band. Asking each other "What will the future bring".  A good question considering what is going on in the world today.
Living It Up, brings the funk to this album and lyricist Damian Marley doesn't disappoint.  An anthem for those who are living life to the fullest.  Teaching you to believe in yourself. "Uptown Jamaica born and raised on the playground is where I spent most of my days"  Fresh King tribute to the "Fresh Prince." something we can all recognize.  This is a feel good song, making the hard times transform into "good times".  Don't judge a book by a cover is the underlining message in the song, Looks Are Deceiving.  This slow tempo track makes you focus in on the sound of the drum and bass. "When the music hits you feel no pain" a popular quote by Bob Marley himself, rings true to this track.
The Struggle Discontinues,  puts an end to the struggle of our people.  It speaks true to the war that continues to this day, in countries around the world. In Africa, there seems a constant struggle for our survival.  Stop the rape and destruction of Ma Ma Africa. Wishes for the struggle to die and wither away, no more struggle for all.  Like a memory, Autumn Leaves comes in like a beautifully written composition of life and love.  The full musical accompaniment of an orchestra makes the sounds deep, full and familiar like a theatrical musical with Damian Marley as the lead.  Speaking truth into this story are his lyrics, metaphors for not giving up even in the most trying times.  Everybody Wants To Be Somebody – this song makes you want to skank – the guitarist comes in with a rhythm you instantly rock to.  Most can relate to this song.  Dreams of accomplishing their hearts desires.  The horns have a perfect position in this composition as reinforcement and the accompany vocalists come in making this a hard hitting, uplifting tune encouraging everyone to forward in their own livity. 
Upholstery, featuring Major Myjah is next with smooth lyrics a perfect coordination in the musical composition of genius.  This futuristic sound speaks to the direction dancehall has currently moved in.  A fusion of dancehall and the "new age" tropical house; a genre birthed through Rihannas "Work". Love this tune!  "Quit playing hard to get girl" you know you like it. Reggae music will never let you down.  This is a love song, for the ride or die.  The next track on the album is Grown & Sexy featuring Stephen Marley.  This song is smooth in a reggae/jazz fusion with a latin flavour.  You can picture all the things grown folks can do to this song.  Visions of island love comes to mind.  Damian and Stephen Marley collaborations always feel so good.  This track is no exception.  It's more than alright.  Imagine waking up in the sweet island of Jamaica with the person you love.  This album takes you on a journey, that you don't want to ever end. 
This song is my favourite on the album; Perfect Picture, featuring Stephen Marley paints a vision of love that is destined.  Through all the trials and tribulations; sometimes the hardest fight; is for that which is meant to be.  They say "If it's not easy, you're probably on the right track.  "Every time I see your face, you paint the perfect picture, every time I'm with ya".  He sings of the woman behind this "perfect picture" like Mona Lisa.  Beautiful song!  This next song has an acoustic feel, So a Child May Follow, is a story for the young people coming up, the next generation; that will follow.  "Dread shine your light, so a child may follow.."  it's all about each one teach one, and passing the torch. A message to the youth that they can do anything they set their mind to.  The world is your oyster. You can make your mark on this world, and you will. "Hey young world, the world is yours" the message is clear.  The children are our future.
Slave Mill is a hard hitting track with African conga drums beating, "the old slave mill is grinding slow, but grinding still.".  A tribute to the work labourers, those that are working 9-5 in the babylon system.  Keeping us in this continuously spinning wheel; of living pay check to pay check.  "The weekend is a short lived thrill" most can relate to this reality.  Material gain isn't everything, how do we take back ur freedom? Or is freedom, a unattainable goal in today's society.  Damian Marley is currently on tour across the USA. Many shows are already sold out.  So, Caution! The Marley's are not stopping, they are trampling down evil with every song they penetrate the masses.  Speaking against the system that keeps people starving, against corrupt politician with lyrics like "Election is just a distraction".  This song speaks truth; so those that cant handle it, must step aside.  Speak Life is the last song on a well mastered album that will not disappoint reggae fans around the world.  It literally "Speaks Life" into the 1%.  "Never sell out for a bonus"  stay true to yourself.  We have to remember and learn from the past, to not repeat the same mistakes of our ancestors.  This song has a bass and drum that is recognized in the soul of every African.  It leaves us wanting more.  So you may want to have this album on repeat.  Roots Reggae Hub highly recommended go get your copy today! Score 8/10 Bless Up!
TOUR DATES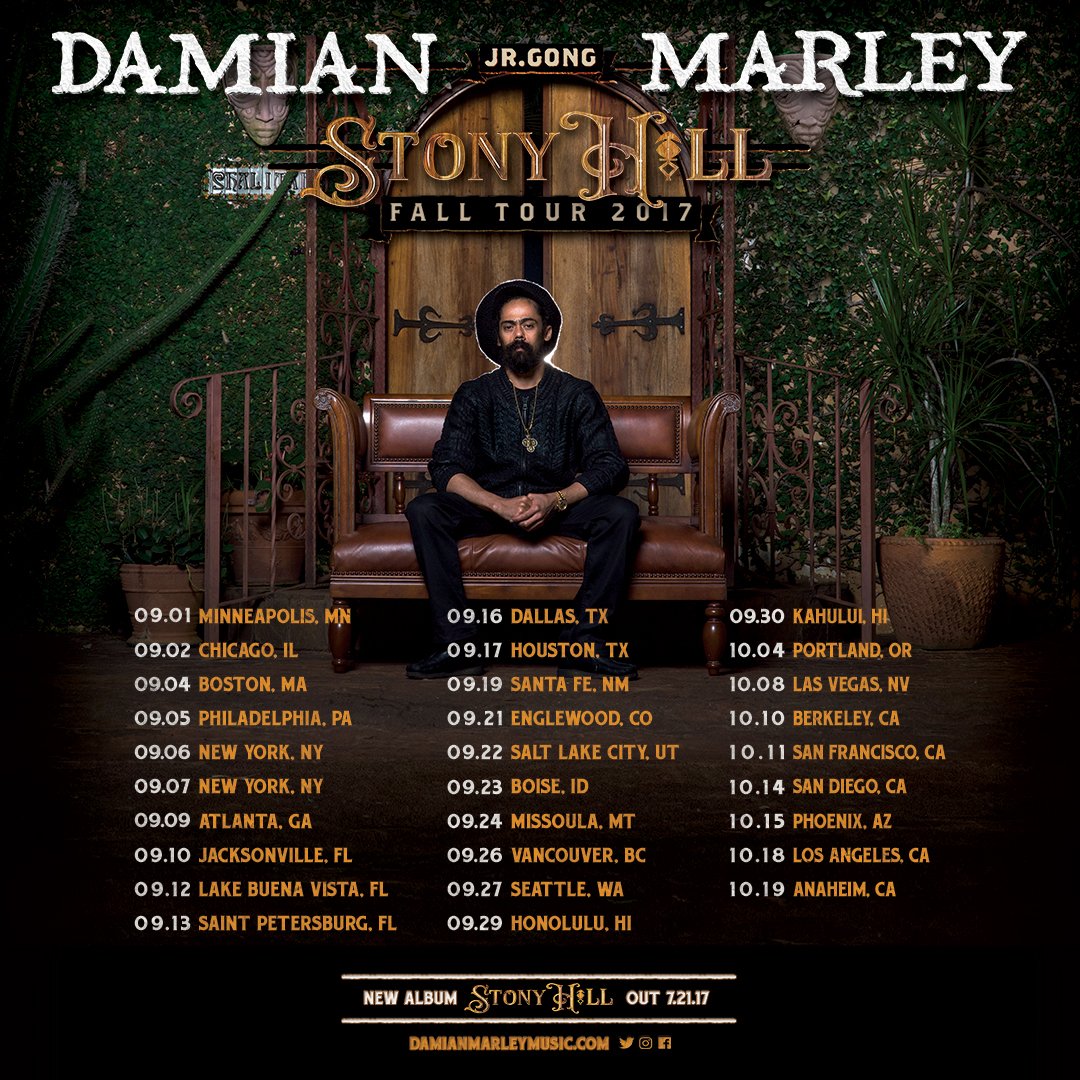 TRACK LIST
Intro
Here We Go
Nail Pon Cross
R.O.A.R.
Medication (feat. Stephen Marley)
Time Travel
Living It Up
Looks Are Deceiving
The Struggle Discontinues
Autumn Leaves
Everybody Wants To Be Somebody
Upholstery (feat. Major Myjah)
Grown & Sexy (feat. Stephen Marley)
Perfect Picture (feat. Stephen Marley)
So a Child May Follow
Slave Mill
Caution
Speak Life
STONY HILL VINYL & BOXSET OUT August 28th 2017
Available @ REPUBLICRECORDS.com